Chios
The East Aegean island is with 845 km² comparable in size to Berlin. There live a good 3.6 million, here plenty of 50,000 inhabitants. On Chios you will find secluded beaches, romantic landscapes and small historic villages. Connoisseurs of the island say that Chios is one of the last undiscovered jewels in the entire Aegean. Worth seeing are the excavations of Emporio, the painted village of Pyrgi with its architecture unique in all of Greece, and the ghost village of Anavatos from the Byzantine period. Chios town with its old town and historic castle is also the island's center as an airport and ferry port.
Where is Chios?
Chios ist eine griechische Insel der
Ferries and ferry port in Chios
Weather in Chios
Der Wetterbericht für Chios am 08.08.2022: tagsüber wird durchschnittlich eine Temperatur von 24 °C erreicht, nachts kühlen die Temperaturen auf bis zu 23 °C ab.
29°
23°
28°
23°
27°
23°
29°
23°
27°
23°
28°
24°
Tours & Attractions
Chios Inousses Lagada Semi-Private Sail Cruise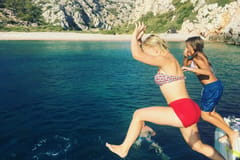 A full day semi-private sailing cruise in Chios island. Experience sailing in beautiful sea, explore the coves of Inousses, dive into magnificent clear waters, enjoy a freshly prepared bbq on board.
Chios & Oinousses Island: Private Sail with Cruiser Yacht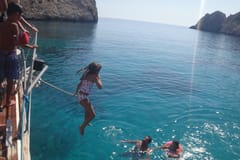 Join an all day sail cruise with a motor or sailing boat at Chios. Discover the island by the sea, visit deserted beaches, enjoy a BBQ lunch onboard followed by the village's small streets.
Cities and places near Chios